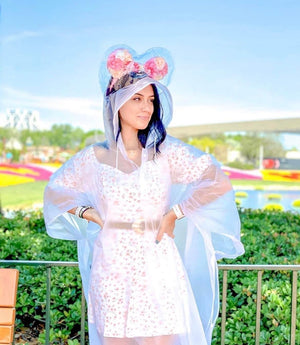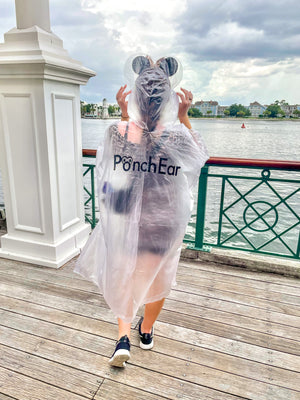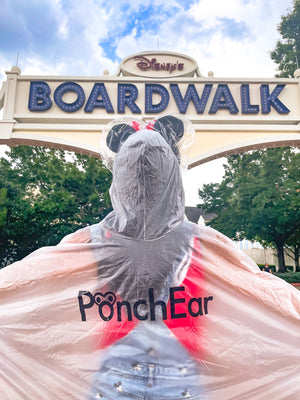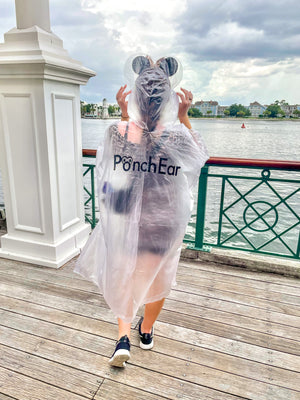 NEW FEATURE PonchEar - Adult Size ONLY
Reusable, durable, patented poncho with "PonchEar" trademark logo on the back. Cover your headgear to protect from inclement weather. Logo is displayed by vinyl heat transfer. Snaps down the sides and neck with drawstring around the hood to adjust for your comfort.
*NO CHILD SIZES AVAILABLE*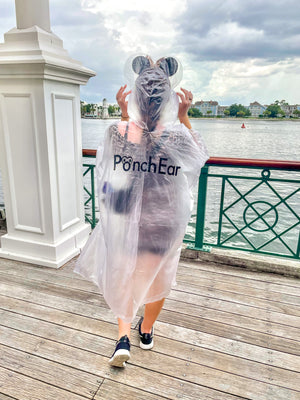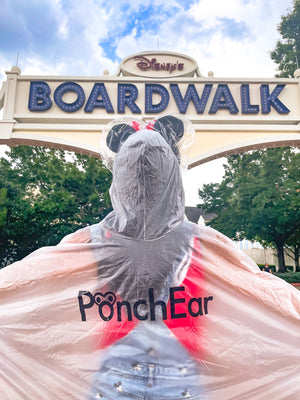 The BEST purchase for our trip!
I have to start by saying that this was the best customer service I've had in...ages? ever? It was stellar. The team were responsive, proactive, all the things...and got our product to us in record time which was super helpful since we hit Disney a couple days after the hurricane had skirted the area. Our first night at the park we got hit with a downpour (and not your usual quick 15 minutes to shop at a nearby kiosk until it let up). Our whole group of 8 tossed our PoncEars on and just kept rolling with the magic! We saw folks with other ponchos, or people trying to balance umbrellas and they were wet and less than enthused. It was perfect to be able to stay dry, still show off my ears, and not feel like my poncho was trying to choke me because I refuse to take my ears off while on Disney property :)
We got stopped a few times from folks with questions and we immediately raved about the quality of the product and the top notch customer service. I was a walking advertisement for them and was please to be!
I would 100% recommend PonchEars to anyone gearing up for a trip to Disney.
PonchEar saved our vacation
PonchEar saved our Disney vacation. Definitely a Park must have for those rainy days spending time in the park. Love the quality and travel pouch. I would highly recommend getting one if you are planning a trip to Disney…👍😊
Genius!
As soon as I saw this product, I knew I had to purchase. It fits and protects my ears perfectly!! The drawstrings on the poncho allow me to really adjust to my own comfort which is awesome. I onIy only ordered one, but I will definitely be purchasing more for my family and friends! Thank you for this genius invention!
AMAZING! Disney MUST HAVE!!
Everyone who goes to Disney, NEEDS a PonchEar! I personally go to Disney in Florida and every time I go, I get caught in at least one rain shower. When it would start to rain, before I would put on my rain jacket or poncho, the first thing to come off were my cute ear headbands that "made" my whole outfit. I was always worried that the cute designs would get ruined if they got wet. NOT ANYMORE!!! Now rain or shine (on Splash Mountain) I can wear my ear headbands all day! The overall design of PonchEar is amazing, the material used is thick and the poncho itself is very well made. Get your PonchEar, you won't regret it!
GAME. CHANGER. PERIOD.
This poncho is a GAME CHANGER!! It's 100% the product I had no idea I needed, but as soon as I saw it, I bought it! Also FYI, SUPER RIDICULOUSLY FAST shipping, and it arrived 3 days after I order it. Now, my ears are not your classic Mickey ears, I have a ton of custom pairs, with alot of EXTRA additions to them and sit pretty high on my head. The ears on this poncho cover them PERFECTLY! There's also a lip on the front of the hood that will help protect your makeup/mask from getting wet! I also love how its a clear poncho and you can see my full outfit and my ears under it! Stay fashionable in the rain!! I am so obsessed, I've literally recommended it to EVERY EAR LOVER I know!! Thank you for this MAGICAL creation!!